| | |
| --- | --- |
| | Consumer Tips |




The Plumbing Group, Inc.
123 Main Street
Anytown, NY 20317
USA
(212) 555-4321
(212) 555-1234 fax

Send Us

E-mail

© Copyright 2011
The Plumbing Group, Inc.
powered by Website2Go.com
All Rights Reserved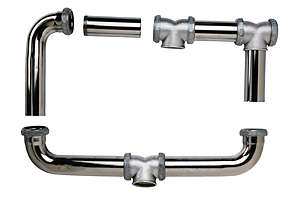 Finding someone you can trust to work on your home and plumbing can be a daunting task. So whether you need a plumber, electrician, general contractor, or other home repair specialist, here are some definitions and tips to assist you.

Plumber's Licenses
Journeyman Plumber or Gas Fitter License: A license issued after a plumber or gas fitter has successfully completed a training term of at least two years and successfully passes a journeyman's exam.

Master Plumber or Gas Fitter License: A license issued to anyone who successfully completes the master plumber or master gas exam issued by the prevailing licensing authority in their jurisdiction. This license is required to do business as a plumbing contractor in the State and to perform work within the City of Anytown.

How to Find a Contractor

Hiring a contractor who's been recommended by someone you know is the best choice. Word of mouth from a happy customer is the best source. Ask your neighbors and friends about The Plumbing Group!

Call your local Better Business Bureau and your local consumer affairs office to see if they have any information about any contractor you're considering.

Ask the contractor for local references and call them to see if they were satisfied with the contractor's work. We can give you several. Call 212-555-4321.

Ask the contractor if the company is insured against claims covering workers' compensation, property damage, and personal liability in case of accidents (we are). Ask to see a copy of certificate of insurance or ask for the name of their insurance carrier to verify that the contractor has insurance.

Licensing and/or bonding is required, so ask to see a copy of the document to ensure that the contractor is properly licensed or bonded.

Contractors' Licenses
Homebuilder's License- This license is a registration of plumbing and other specialty contractors who perform work valued at less than $17,500 on residential projects. Residential plumbing contractors carry this level of license.

Mechanical Contractor's License - Issued through the State Labor, Licensing, and Regulation Board. It demonstrates that the business is qualified to perform mechanical work under three categories. Generally residential repairs or renovations under $17,500 will not require a license. Mechanical work exceeding $17,500 requires at least a Level One mechanical license. Our license is unlimited. This permits The Plumbing Group to undertake any size plumbing project.

General Contractor's License - Required of contractors who act as a primary general contractor on a project exceeding $30,000. The Plumbing Group's contractor's license carries unlimited capacity.

Permitting of Project - Some municipalities require special permits for performing certain plumbing repairs or installations. Owners are encouraged to check with their local governing municipality to ensure that the proper permits are obtained.

Insurance
General Liability - This insurance covers property damage or bodily injury to non-employees of the contractor while performing his/her duties. The limits vary.

Workers' Compensation - This is coverage protecting the owner from liability involving an injury to a workman on the jobsite. Some coverage excludes the company owner. If the owner is performing work on the jobsite, he/she should be required to show proof of coverage. Property owners can be held responsible for an injury to a contractor or contractor's employees while working on their property, if the contractor does not have worker's compensation insurance.

Bonding
Permit Bond - This is required by many municipalities. This bond guarantees payment of all permit fees and other regulatory fees accrued for a particular job up to the bond limit.

Payment/Performance Bond - This is typically required by owners for larger commercial projects to guarantee that the project will be completed in a timely manner, according to project specifications, and to guarantee payment to all suppliers and subcontractors.

Fidelity Bond - This bond covers employers against employee dishonesty.